Mark's Run Results
This run is about rather more than the results, so they will follow at the end.
Firstly, a picture of the man himself, in Wytham Woods, naturally.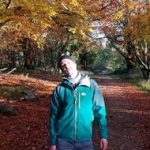 Here is Simon's opening speech, which summed up what Mark meant to us, and why we were gathering in his honour.
Then, a link to the piece by Herbert Read, read by Mark's sister during the oak planting:
The death of each of us is in the order of things
Some background information about the oakling itself, courtesy of Benedict.
A few notes about Mark's Oakling 24122020
Here are the results. A word from the timekeepers to say that these values may not exactly match what people recorded on their Strava/Garmin/whatever, but they should be close enough, and the order is correct, which is the main thing for Club Championship purposes.
Thanks to all the marshals and helpers, and well done Tom for a fine win.
21/12: Club Championship points have now been added. A reminder that you have to be a paid-up competing member in order to score points. Any queries, please ask.
Also, if anyone played their joker (Robert?), please let me know.
| | | | |
| --- | --- | --- | --- |
| Position | Name | Time | CC Pts |
| 1 | Tom Baker | 37.25 | 50 |
| 2 | Mark Tyrrell | 37.35 | 49 |
| 3 | Dafydd Warburton | 39.15 | 48 |
| 4 | Pete Williams | 40.02 | |
| 5 | Graham Bridges | 41.31 | 47 |
| 6 | Nick Sheard | 43.30 | 46 |
| 7 | Nick Hardwick | 43.44 | 45 |
| 8 | Ben Breaker | 43.54 | 44 |
| 9 | Adam Clilverd | 44.09 | 43 |
| 10 | Ant Green | 44.31 | 42 |
| 11 | Simon Walker | 44.54 | 41 |
| 12 | Stan Johnston | 44.59 | 40 |
| 13 | Arthur McEwan-James | 46.12 | 39 |
| 14 | Liz McAllister | 46.51 | 50 |
| 15 | Toby Goss | 46.52 | 38 |
| 16 | Stephane Paulus | 47.16 | 37 |
| 17 | Neil Reeves | 48.32 | |
| 18 | Justin Byworth | 49.27 | 36 |
| 19 | Andy Egan | 49.36 | 35 |
| 20 | Jonathan Marks | 50.05 | 34 |
| 21 | Andy Pike | 50.17 | 33 |
| 22 | Tess Evans | 50.41 | 49 |
| 23 | Andy Bain | 51.06 | 32 |
| 23 | Alison Craggs | 51.06 | 48 |
| 25 | Anya Aspinall | 51.18 | 47 |
| 26 | Colin Hancox | 51.33 | 31 |
| 27 | Kate Williamson | 53.40 | 46 |
| 28 | Steve Williams | 53.46 | 30 |
| 29 | Martin Johnson | 54.35 | 29 |
| 30 | Alison Barry | 55.04 | |
| 31 | Tony Whitlock | 55.59 | 28 |
| 32 | Steve Hughes | 56.17 | 27 |
| 33 | Mark Creasey | 56.59 | 26 |
| 34 | Kathryn Dally | 57.17 | 45 |
| 35 | Jane Garton | 59.03 | 44 |
| 35 | Tara Lawfull | 59.03 | 44 |
| 37 | Rosamond Hall | 59.08 | 42 |
| 38 | Marina Barlow-Oakes | 60.00 | 41 |
| 39 | Caroline Ogden | 60.07 | 40 |
| 40 | Nick Maynard | 60.10 | |
| 41 | Rain Newton-Smith | 60.16 | 39 |
| 42 | Rachel Green | 60.40 | 38 |
| 43 | Andy Goodwin | 61.00 | 25 |
| 44 | Claire Mallindine | 61.35 | |
| 45 | Lisa Tyler | 62.49 | 37 |
| 46 | Ian Keeley | 62.57 | 24 |
| 47 | Marisa Keeley | 63.10 | 36 |
| 48 | Mette Berg | 64.02 | |
| 49 | Keith Baker | 64.52 | 23 |
| 50 | Adrian Pinnock | 65.11 | 22 |
| 51 | Robert Storey | 65.15 | 21 |
| 51 | Florence Storey | 65.15 | |
| 53 | Kiri Weller | 66.00 | 35 |
| 53 | Alison Berrett | 66.00 | 35 |
| 54 | Jane Whitlock | 66.39 | 33 |
| 55 | Laura Hutchins Payne | 68.15 | 32 |