County Road Relays Report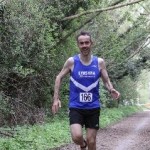 The build-up to the County Road Relays followed a familiar pattern, in the shape of an email on Sunday morning from Jacky to say that Edan had injured his leg, and did anyone know of any possible replacements? Texts and emails were sent, calls were made, but the answer was ultimately no. Instead, Simon Walker stepped up to be this year's good egg by offering to run twice.
Having volunteered to marshal for the first half of the event, this gave me a chance to watch the great and the good at the front of both the men's and women's races, which I don't normally get to do (before anyone else says it). Seeing our 'A' team of Robert, Matt, Mark, Dafydd and Chris power their way in turn around the course made me realise that there might be some pressure on my anchor leg. So it proved… when I took over we were about a minute ahead of Woodstock. The only problem was that their final runner was James Bolton.
"Will a minute be enough?" I asked.
"Nowhere near," they all replied.
They were correct, as that minute lead disappeared within a mile. Still, no-one else overtook me, so maybe we were still in with a chance of something.
However, when it came to the presentations, it looked like being another case of applauding all the other teams for their achievements. So, having done a fair amount of that, including congratulating Denise, who was part of an excellent Woodstock winning ladies team, it came as a very pleasant surprise when John Sear announced that the 3rd Senior Men's team was…. Eynsham! All the other team members had left by that time, which at least allowed me the chance for a multi-medal photo in the style of Mark Spitz (ask your parents).
A useful rule in this club is that if you want to know about some part of its history you should ask a Creasey, on the basis that they were there for most of it, and if they can't remember it they'll make something up. According to Mark, who had been in quite a few of our 'A' teams down the years, this was the first time our men have won anything in this event, which makes it a pretty special achievement in my book.
Well done also to our 'B' team of Arthur, Dan, Simon (twice), Tristan and Andy for a very creditable performance, and to our Senior Ladies team of Hannah, Tess and Anna who were an excellent 7th out of 21 teams in that category, and our Ladies Vets team of Jacky, Tara and Sallie who were 5th out of 8 teams in theirs.
Here are the detailed results for our teams:
Ladies 'A' 1:08:04
Hannah Hale 20:38, Tess Evans 24:01, Anna Mackin 23:25
Ladies Vets 'A' 1:17:07
Jacky Pinnock 24:18, Tara Lawfull 25:57, Sallie Burrough 26:52
Mens 'A' 1:53:03
Robert Storey 18:14, Matt Ray 19:06, Mark Baker 18:01, Dafydd Warburton 18:58, Chris Williams 18:54, Graham Bridges 19:50
Mens 'B' 2:15:07
Arthur McEwan-James 20:31, Dan Ray 21:41, Simon Walker 21:01, Tristan Hale 26:41, Andy Bain 24:01, Simon Walker 21:12
And it seems only fitting for the photo to be of Simon, the day's good egg, still smiling despite being about to run his second leg of the day (photo courtesy of Barry Cornelius).