Eynsham Road Runners Update – Supporting your running routine and connection with some new events
Hi folks,
One of our roles as a running club is to support routine in your running.
At the moment, I find myself focusing on 'just getting out running (or walking)' and time on feet Simple 'process goals' – such as trying to run during as many working days as possible – I'm managing 3-4 days per week in Feb so far – I'm happy enough with that and leaving some room for improvement.
Hearing the training strategies of members of our club is always insightful, often inspiring and perhaps it will others to re-energise and discover theirs too?
Yesterday (Sunday Feb 14th) we had our first 'How far can you run in 30 minutes?' challenge – The link to the general information is here. The clubs participating and their numbers are here. Results so far are here.
The purpose of this note is to bring some of our forthcoming activities together in one place and to update our membership and show our future members what support to expect.
Breaking news:
Thanks to our brilliant Club Secretary and Treasurer, who recently applied for funding from England Athletics, we have received news of a £500 grant to the club!
Other news:
1) Thank you to all our members who have had the chance so far to renew membership.
Our Memberships Paid to Date are similar to last year in that we have had 79 renewals so far. For those who still have this 'To-do' for details how to renew, please check here.
2) Our latest club event will start next Wednesday Evening, February 17th, – a "Run and Chat" Zoom Meeting.
As Nigel, our Wellbeing Champion has said, "The joining requirements are tough and stringent!"
You simply need to have gone for a run on Wednesday and then meet your running colleagues on-line.  A chance to have an informal chat about running, the club or anything else on your mind. Basically, the Pavilion discussions in your own living room!
The first event will be on Wednesday 17th February at 7.30pm.
(Members please check your email for the Zoom access details)
3) Pilates for Runners continues to be very popular and helpful. For those like me who've lost the routine or if the timing doesn't work for you can set your own time and access the recording… recently Frankie, our ace teacher, has shared her thanks:
"Just wanted to say a massive thank you to you all for such enthusiastic feedback and also your commitment to the Pilates classes- can't believe it's been nearly a year now!! It's so great to see newer faces join in along the way as well.
Ultimately these classes are here for you- whether that is to improve strength/ core control/ running form or just generally work on mobility, so please feel free to drop me an email if you have any questions/ problems with any of the exercises that we do in class or even certain requests for areas to focus on.
It's really important to me that you feel you are getting as much as you can out of your precious time and commitment to Pilates. So please, just ask!! "
Information on how to take part can be found here.
From Monday April 15th, we'll keep the lines open for 5-10 mins afterwards, so those who wish to, can have a little chinwag.  Of course, it isn't compulsory as always, even if you can't make the live session, if you're paid up, you do get the recording to do at your leisure.
4) New club challenges – As you know this month is all about the 'How far in 30 minutes?' challenge.
Next month (March) the challenge is an out and back 10k, Ian Keeley – one of our new committee members and our amazing club coach – will be in touch soon with some suggestions to help in scaling up and sharpening for that challenge.
We are also hatching a team marathon plan for April.
5) Talking of marathons – who got into The London Marathon?
Who applied and didn't get in? Alison and Jen are both in (Whoop!) and it'd be great to discover, who else?
Richard deferred his place due to injury and all being well will be in the next edition. We usually get club slots allocated – details here – but haven't heard yet, we might not this year – who knows, who knows.
Do keep your rejection email though as you will need this eligible for a future club place 'draw out of a hat'. It will be great to form training squad(s) for marathon training down the line.
6) Eynsham Roadrunners on tour! If only, the glamorous running trips are left to our banner which has enjoyed lock down 2 seducing passing prospective Eynsham Roadrunners in Chilbridge Rd.
Not content with this indulgence it has taken a long hall flight to Freeland for further exposure to the passing masses of that metropolis.
Where next? Our banner is open to offers!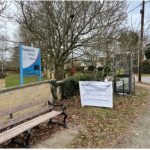 7) Our AGM took place on Jan 24th, on Zoom – thank you for the feedback and comments about the evening.
We had a couple of wobbles (that's life!), but you seemed to really enjoy and be inspired by talks 'from Half to Ultras.' We hope to share some of these stories in future club updates too.
A big welcome to Liz, Jen, Alison and Ian to the committee and welcome back to all.
Thanks again to Richard, Kate, Al, Tony, Jane and of course Derek who stepped down in 2020 after many combined years' service to Eynsham Roadrunners.
A line to say thank you doesn't say enough, does it?
More on that at our comeback party – date TBC.
It was great to see positive and supportive feedback as to our club plan too.
Eynsham Roadrunners – Who are we?
Our Vision:
A diverse and inclusive running club and community that provides our members choice and friendly support to enjoy running and to achieve their running goals.
Our Values:
Serves the broader community with healthy choices and options to participate in a thriving and social running club.
Our Focus Areas:
Improve health and wellbeing
Enhance running environment
Coach improvement
Motivate running routine
Inspire new runners
#EynshamRoadrunners #RunningInspiration #Togetherness #AllRunners
Take a look the Club Strava page – there's so much happening on there and a good way to meet new members – there are many encouraging conversations and some great photos.
As usual please let me or any other members of the committee know if you have any questions or feedback – here we are. Questions and feedback are welcome here – Eynsham.err@gmail.com
Enjoy your running and stay safe.
Best wishes,
Simon
ERR Club Chair
Eynsham.err@gmail.com