ERR Handicap Race 2023 Results
Thanks to everyone who helped out with this year's handicap race, and congratulations to Nic for winning the famously large trophy (albeit in an unnecessarily small photo below).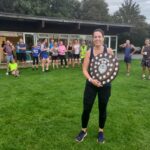 And here are the results. 'Margin' means how faster or slower you were than your predicted time.
| | |
| --- | --- |
| Name | Margin |
| Nic Coppuck | -3.30 |
| John Rowland | -2.56 |
| Robin Noble | -2.11 |
| Adrian Pinnock | -2.08 |
| Richard Barltrop | -0.58 |
| Hugh Morris | -0.54 |
| Andy Pike | -0.36 |
| Chris Jennings | -0.13 |
| Howard Humphris | -0.04 |
| Mark Spragg | 0.12 |
| Toby Goss | 0.20 |
| Gail Morris | 0.46 |
| Sheila Gascoigne | 0.52 |
| Stephane Paulus | 0.59 |
| Kathryn Dally | 1.06 |
| Tom Baker | 1.13 |
| Jane Garton | 1.28 |
| Dave Hemprich-Bennett | 1.34 |
| Owen Hughes | 1.38 |
| Alison Craggs | 1.42 |
| Claire Hazleton | 1.54 |
| Kate Williamson | 1.59 |
| Nick Sheard | 2.11 |
| Colin Hancox | 2.45 |
| Jacky Pinnock | 2.46 |
| Xavier Laurent | 3.08 |
| Martin Johnson | 3.28 |
| Mark O'Callaghan | 3.34 |
| Sue Kench | 4.18 |
| Nick Hardwick | 4.30 |
| Gil Middleton | 4.44 |
| Antony Hey | 5.10 |
| Jonathan Marks | 6.33 |
| Tony Whitlock | 7.32 |