Cycling
When we're not busy running 10ks and marathons, and even when we are, we also partake in some cycling. In 2008 some runners cycled from Eynsham to Paris, and following the success of that, some members cycled from Holyhead to Eynsham. 2010 saw the Eynsham Roadrunners cycle the Sustrans Coast and Castles route from Newcastle to Edinburgh, and continuing on to finish the 220 mile trip in Stirling.
To celebrate our 25th year we cycled 250 miles in Wales and the Wye valley from the 3rd to the 7th September 2011. Details of this year's routes and profiles can be found here.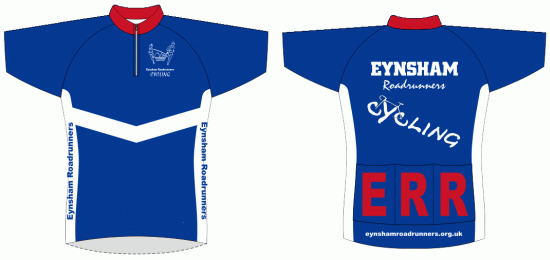 Because of the growing popularity of cycling within the club we have designed our very own Eynsham Roadrunners jersey! We have a handful left so if you'd like one get in touch.
Want to organise an event for ERR?
We have a set of guidelines on what to do to get subsidy for an event that you are organising for ERR, and a form to fill in.