3Peaks – Soundbites from the 'pro's: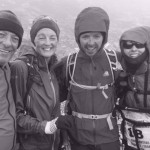 I apologise for lack of response on tour, you know how it goes, wet stinky stuff all over the bus, trying to pull yourself into dry clothes on the move………(Tara)
Expedition 3Peaks 2015 was completed in poor weather conditions, some places were extremely hostile and later became extremely confusing in mist and low cloud! Ben Nevis had buckets of the white stuff, Scafell Pike had already become a miserable, cold bleak bad dream and Snowdon offered the occasional break in cloud, which led to gales towards the summit.
We finished with a Silver [20:20hrs] just 21mins off a Gold chuffed with that, in those conditions!! Thanks to my fabulous team and my two amazing drivers job well executed…………….will I do it all again? – Of course, mad not too!! On tour with Jules, Simon, Frazer, Olga, Tony and Ian!!
On arrival in Scotland we were greeted with some wonderful views of snow as we drove through Glen Coe, this was an indication of what we had waiting for us.
We booked in our hotel and then went out for a meal, back to the hotel for an early night, as we were under instructions not to have too much alcohol, the girls went off to bed and left us to it, I think I got to bed around 1.30 am! Well… you have to prepare!.
At the briefing we were warned that the weather could be pretty poor, with as much as 10 feet of snow at the top of Ben Nevis. It did not let us down, the snow line was much lower than I had ever seen it before.
Onwards then to Scafell pike, out the bus at 4.30am in pouring rain, if we thought Ben Nevis was bad, we had another thing coming as the weather got worse and the wind got colder, I don't think I have ever been so cold in my life.
Anyway upwards and onwards towards Wales, I was having a nice sleep laid across the seats, Tony slammed the brakes on and I slid off the seat and ended up on the floor.
Snowdon wasn't so bad after all, and we conquered it missing out on gold by 21 minutes. On the walk back down Tara was walking by the edge of a cliff possibly 500 feet, I told her to get away from the edge, if she fell over, she could easily roll over the edge! As soon as I spoke she fell over and was inches from going over!!
Don't ever do that to me again, Tara – it must have aged me by 10 years!
Thank you to all the team. Drivers Tony and Ian, and the Climbing team Olga, Julie, Frazer, and special thanks to the team leader Tara.
Simon
*
Anyway upwards and onwards towards Wales, I was having a nice sleep laid across the seats, Tony slammed the brakes on and I slid off the seat and ended up on the floor.
*
………this happened twice through the night and as I looked behind at the almighty bang I found Simon rolling around on the floor of the mini bus like a slug unable to free his arms, thinking he had cocooned himself in for the journey………I shouldn't laugh but it was such a funny sight & probably helped me on the low moments of Scafell Pike. (Tara)
Considering the awful conditions on all three mountain everyone pulled together and remained very positive throughout. Tony and Ian our drivers where excellent, very professional and kept all of us in good spirits on the long drives.
The mountain team pulled together when needed the most, and all of us focused on the end result.
Top work, team!
Frazer Edminson "Leg working again"
Three words from Jules…… Not Ever Again?
Though I'm liking her question mark at the end – I like a girl who keeps her options open!! lol!!
Another brilliant expedition of ERR to the Three Peaks, well done guys!